Kills fleas on dogs of all ages.
Directions for use: Sprinkle flea powder onto the coat and brush well into the fur. Make sure that the powder gets to the roots of the hair and into all folds of the skin. Brush out after 2-3 hours. Surplus powder can be removed, particularly from dark haired animals, with a damp cloth. For prevention of reinfestation sprinkle on bedding, in kennels and places where fleas might breed. Fleas are more common in the summer, but breed easily, even in winter, in warm homes. Use weekly during the warm months or as required. 
ACVM Registration NO: A007579
Active ingredient: Permethrin 19.5g/kg
For Animal Treatment Only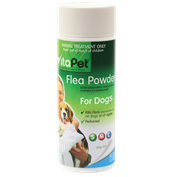 Flea Powder for Dogs
Kills fleas on dogs of all ages.