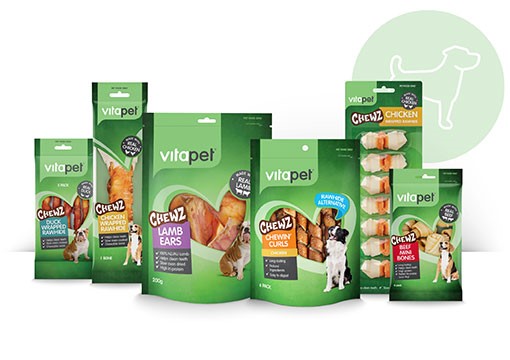 VitaPet Chewz - Long Lasting Dog Treats
Our chewy, long-lasting dog treats are perfect for when you need a break.
We'd like to say it's easy to keep up with your pup… but we both know otherwise! Between walkies, meals, playtime and snuggles, your dog has a lot of love and energy to give and let's be honest, sometimes it can be a little overwhelming.
If you need a quick distraction for your dog, we have the perfect solution: our long-lasting dog treats, Chewz! Whenever you need a break or need to concentrate on the task at hand without being slobbered on, Chewz will keep your buddy busy. We're talking genuine rawhide, rabbit ears, lamb ears and even soft chicken tenders for those over-excited puppies — whatever your dog likes to snack on, we have long-lasting dog treats to keep them distracted!
Browse through our collection online and find us in-store today. You can find our products in supermarkets across New Zealand.