VitaPet kitchen and bathroom clumping cat litter is a super absorbent, odour trapping, scented litter. The flat compact clumps allow for less wastage, making it last longer than regular clay litters.
VitaPet cat litter is specially formulated to be ultra-absorbent, long-lasting and low-odour
The litter quickly absorbs any moisture, to contain odours and form a flat, compact clump. Which can be scooped out easily, leaving your litter tray smelling clean and lavender fresh. Simply top up with extra litter when needed.
Clumping cat litter
100% Natural and biodegradable
Made from bentonite clay
Superior odour control with a mild lavender scent
Forms flat compact clumps, making it longer lasting
Fast & easy clean up
Directions for Use
1. Fill a clean, empty litter tray to a depth of 4cm (use a tray liner if desired). Position tray in a convenient place for the cat.
2. This clumping cat litter quickly absorbs liquid and clumps flat on the surface so you can easily scoop out the clumps.
3. To maintain litter freshness simply scoop all solid clumped cat litter from the tray.
4. When liquid is no longer being absorbed quickly, replace the entire tray contents.
5. Dispose of used litter in garbage. Wash tray regularly. Always wash hands after use.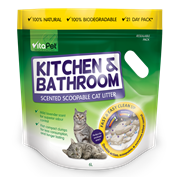 Cat Litter - Kitchen
Scoopable Lavender Scented Odour Control