Halloween is coming, so have a spooky time and include your pup with our dog-friendly recipe for Spooky Dog Pupcakes.
Not only do we hope your pup loves these delicious cupcakes, but it will mean they get to join the family's Halloween festivities.
Making sure your pup is included in your family's Halloween is really easy. Whether you want to go all out and put them in a costume, encourage them to pose for photos, or just give them special Halloween treats, there are many ways to safely include them.

Some fun options include:
Let them dress the part - Whether it's a bandana or a full costume, you can always add some Halloween flair to your pups look.
Do their own trick or treat - If your pup learns a new trick, it gets a treat.
Take them trick or treating - When you take your kids around the neighbourhood trick or treating, why not let the pup tag along (always on a lead, of course!).
Watch a scary movie - Now, this is definitely something for your whole family. Your pup can snuggle up close when you're all watching a scary movie.
Do a photoshoot - If they enjoy it, dress your pup up, decorate your home and take some fun, spooky photos.
Make Halloween themed treats - We've included a delicious Halloween Spooky Dog Pupcake recipe here. There are a lot of other Halloween themed treats you can make.
The most crucial part is for the whole family to enjoy the spooky season together, but you also want to make sure that it's safe for everyone.
If you have an anxious dog that you don't think will like the dress ups or the trick or treating, perhaps focus on the fun that can be had at home.
Watching a scary movie or learning some new tricks would be fun ways to celebrate the spooky season.

Whatever way you choose to include your pup in your Halloween celebrations, it's all about fun with the family. And making them their own dog-friendly recipes will definitely help them enjoy themselves.
Spooky Dog Pupcakes Recipe
This dog-friendly recipe will have your pup howling with excitement!
Ingredients
For the Dog Pupcakes
2 ripe bananas (2/3 cup mashed)
1/2 cup of xylitol-free peanut butter, smooth or creamy (*see notes below)
1/3 cup honey
2 clean, fresh eggs
1 1/2 cups self-raising flour
2 1/2 tsp sugar (optional)
1/4 cup olive oil,
3/4 cup water
For the Fluffy Dog-Friendly Icing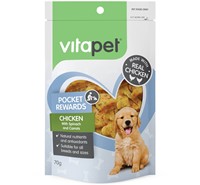 Pupcake Instructions
Preheat oven to 180°C (160°C fans). Line regular or mini cupcake tin.
Place bananas in a bowl and mash (the smoother, the better).
Add peanut butter, honey and eggs. Beat until smooth.
Add flour, sugar, oil and water. Beat until smooth.
Divide batter into cupcake tins.
Bake 20-25 minutes until the top is golden or a skewer comes out clean.
Allow the dog pupcakes to cool before icing them with our dog-friendly recipe for icing.
Icing Instructions
Place diced pumpkin in a large pot of water. Bring to boil, then cook pumpkin until soft and easy to mash.
Drain, then return to an empty pot. Add yogurt. Mix with an electric beater for 1 minute, gradually increasing to top speed, for 1 more minute or until smooth and creamy. Add water if needed to achieve icing consistency.
Decorate each dog pupcake with icing and a VitaPet Pocket Reward Bone.
*Dog Pupcake Recipe Note
Make sure the peanut butter doesn't contain Xylitol, an artificial sweetener, that is toxic for dogs. Natural/organic peanut butter should be used.
This recipe was formulated with human-grade, dog-friendly ingredients fit for dog consumption. If your dog has any food allergies or food sensitivities, please consult with your veterinarian for advice before feeding your dog. Only fresh ingredients should be used when recreating this recipe. The creation and feeding of these treats remains the responsibility of the pet owner. Please be sure to cater to your individual dog's needs.